Special Workshop


January 20 (Saturday) at 3:00 pm
5 spots left
The Calling Bell
An Exploration of Mindfulness Practice, Movement, and Music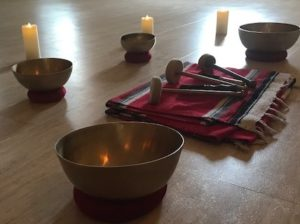 The Calling Bell is an interactive performance piece created by Autumn Turley and Danny Joseph, deeply influenced by their residential training at the Monastic Academy in Lowell, VT. It draws upon the work of their teachers Soryu Forall and Shinzen Young. Mindfulness practice, movement, and music will be our mediums of exploration. Guided meditation will invite you to explore hearing and feeling as a spiritual practice. The music is designed to take you down a path of ambiance, rhythm, and melody. We will interact with the music from our bodies, whether in movement or in stillness.
Cost: 2 class passes or $25 note: 2/$15 pass invalid
"Autumn is a born teacher of dance/movement. She is attuned to the group, clear in her directions, creative and insightful in her choices. I felt relaxed, engaged and trusting of her leadership." ~Julie Oak, RealPlay Facilitator
Sorry - that class has already taken place!